Product Description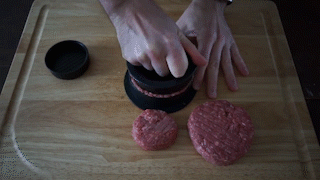 Finally The Perfect Burger Press
Make Delicious Restaurant Quality Burgers From Home
5 Giant Reasons Why Cave Tools Has the Best Burger Maker on the Market:
CUT PREPARATION TIME IN HALF– Spend more time eating with your family and less time in the kitchen
BURGERS COOK EVENLY– Use indicator line to make burgers with consistent size and shape
FEED THE WHOLE FAMILY– Palm shaped handle reduces fatigue when pressing multiple burgers
INCLUDES 200 NON STICK PATTY PAPERS
DISHWASHER SAFE– Cleanup is a breeze.
OUR UNBEATABLE LIFETIME GUARANTEE
If at any point in the life of your burger maker, if you feel like you received less value than what you paid for it, we will give you a full refund for your money. Even if you use your hamburger press for an entire year, if you want your money back, we will give you a full refund for your patty press.
That's how confident we feel that we have the absolute best burger maker on the market
THE GRILL MASTER'S ESSENTIAL BARBECUE RECIPE BOOK
Download instructions included with your purchase. Complete with 25 Professional BBQ Recipes, Step by Step instructions, Tutorial Videos, and Access to our growing library of over 135 Cooking Videos
Burger Maker Cuts Preparation Time In Half So You Can Spend More Time Eating Burgers With Your Family – Use Indicator Line For 1/4 Pounders or Completely Fill For Big 1/3 Pound Hamburgers
Palm Shaped Hamburger Press Handle Reduces Fatigue When Pressing Multiple Burgers – Consistent Size & Shape Every Time So They Cook Evenly On The Grill
Includes Bonus 200 Square Burger Papers Which Makes Removing & Separating Your Burgers a Breeze – Dishwasher Safe For Speedy Cleanup in The Kitchen
COMES WITH 25 PROFESSIONAL BARBECUE RECIPES?- step by step instructions and detailed grilling tutorial videos – Free Download Meat Smoking Journal iOS & Android App
LIFETIME SATISFACTION GUARANTEE?- If at any point you are unhappy with your aluminum burger press maker you can return it for a full money back refund. We Take Customer Service That Seriously.